By applying high technology, Mexico has turned the high-rise pillars into modern vertical gardens. This is part of the Via Verde Project (which means green city) – an initiative to combat environmental pollution, beautify the city and reduce stress for drivers.
Like other densely populated capitals in the world, Mexico City is a city with heavy traffic. It is estimated that it takes 230 hours a year on the road due to traffic congestion. From this situation, the project of vertical gardens was created to ease the tension during traffic jam, and bring more fresh air.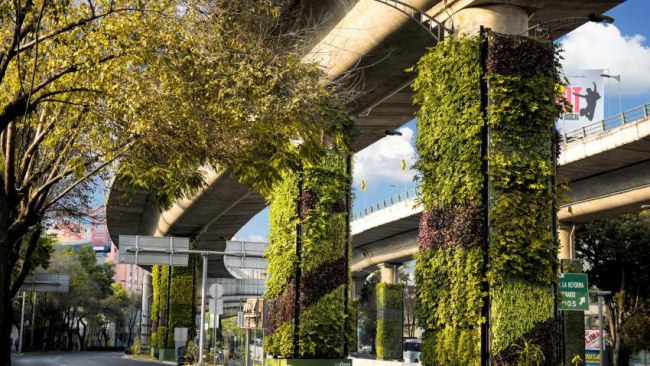 Via Verde is a Mexican project aimed at pillars in this two-storey highway system in order to make them a living place for green plants. This idea belongs to architect Fernand Ortiz Monasterio and the company specializing in vertical gardening Verde Vertical. The project has covered more than 1,000 highway pillars with an area of ​​more than 60,000 square meters.
Due to its large population, from 2006 to 2009, the curving highway of Anillo Periférico – the symbol of Mexico City – has extended the elevated road above most of the original routes. At the same time with the widening of the expressway, a series of cement pillars grow up dull and dull in the heart of the city.
Therefore, more than 80,000 drivers in this city signed a petition expressing that they felt uncomfortable because the appearance of these pillars had lost the city landscape, and they wanted to change. . The petition was reviewed by the government and Via Verde was born.
The Via Verde project's small vertical gardens use sensor-mounted frames and irrigation systems. The whole system uses automatic technology, remote control and only uses treated rainwater.
So Via Verde doesn't waste fresh water. The selected trees grown in this project are all plants with good vitality in dusty environments, and have good air cleaning properties.
Mexico is not the only city in the world to implement the idea of ​​creating vertical gardens in urban areas. Some other populous cities like Lodon, São Paulo and Beirut are also moving with similar projects, following the prevailing "smart city" trend. Not only that, China is also planning to build a "forest city".